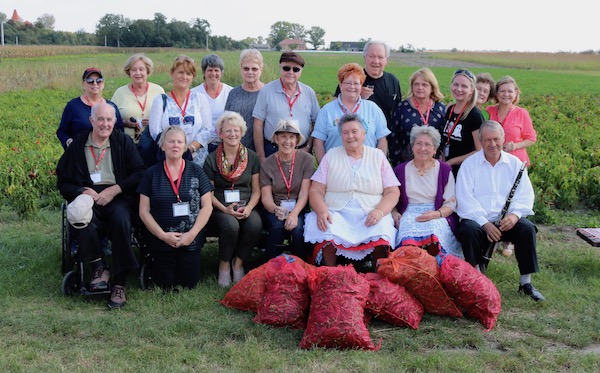 Magyar Marketing Tours are engaging, affordable, and a wonderful opportunity to connect with Hungarian heritage and culture in memorable ways, but don't take our word for it! Read what some of our participants have shared: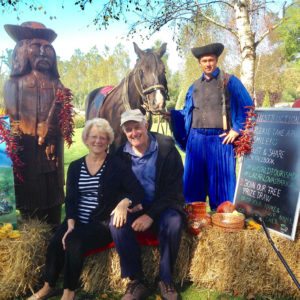 This was one of the most enjoyable trips that my husband and I have taken. While we've been fortunate to have taken many trips to Europe, what sets this trip with Magyar Marketing apart from the rest, is the in-depth look we got of Hungary. We not only visited places that tourists don't usually travel to around the country, but also, we were able to take part in lots of fun and unusual activities. From trying our hands at painting decorative eggs and participating in an actual paprika harvest, to a traditional fish-fry picnic in the wooded mountains, and an exciting horse show, as well as several wine tastings and pálinka tastings, we were truly immersed in the Hungarian lifestyle for the two weeks we were there. The food was to die for, as well!  Our guide, Andrea, was an encyclopedia of information from whom we learned much about Hungarian history, from the time of the Magyars through the years of the Soviet occupation. We even covered some of the recent struggles with the European Union and the plight of displaced refugees from Syria. Our bus driver, Christian, a delight to travel with, gave us a young perspective of Hungarian life today. The small size of our group enabled us to get to know our traveling companions quite well, and the fantastic accommodations added to our enjoyment. We hope to travel with Magyar Marketing again in the future! Thank you Liz, for this wonderful, unforgettable trip!  ~ Jim and Linda, Maine
~   ~   ~   ~   ~   ~   ~   ~   ~   ~   ~   ~   ~   ~   ~   ~   ~   ~   ~   ~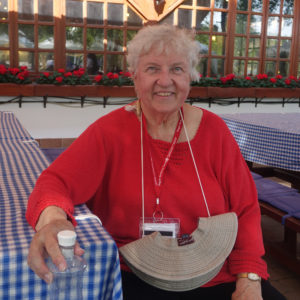 Although my parents took that cruise across the Atlantic to N.Y. to Cleveland, Ohio, I had never been to Hungary.  Due to a notice in the Magyar Marketing e-newsletter, I took the plunge and signed up for a tour in May of 2016.  I think I was the oldest traveler with the group, but I never felt that way.
It was the trip of a lifetime; fabulous in every way.  Let's start with the fact that I never wondered where I would lay my head any night.  Each of the hotels was first class.  There are days when I relish one of those fabulous morning buffets.   "Just hop on the bus, Gus, no need to discuss much."  Each day was planned to precision with breath-taking sights and luscious meals.  Funny that the stuffed cabbage on the Danube cruise tasted exactly like that my Mom made.  I am so lucky to have her recipe.
Liz and Andrea made sure we drank Hungarian wine in the middle of a vineyard on the back of a truck.  Not only were our meals authentic but set in interesting places: outdoor poppyseed strudel baking,  etc.   We observed ceramic, glass and other folk artisans.  I have treasures I could not have gotten in town.  You will never regret signing up with Liz.   ~ Barb, Michigan
~   ~   ~   ~   ~   ~   ~   ~   ~   ~   ~   ~   ~   ~   ~   ~   ~   ~   ~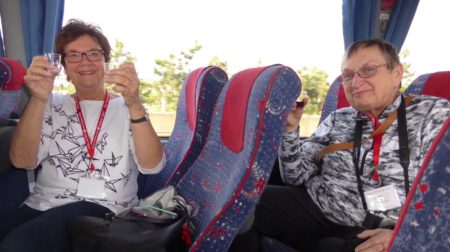 Growing up in a first generation Hungarian family, we were exposed to many aspects of Hungarian culture and traditions: hearing the language spoken between siblings and also enjoying the delicious foods on holidays and Sunday dinners.  As cousins, we wanted to embrace that heritage and visit the country where our parents were born.  This led us to discover Magyar Marketing and a tour planned by Liz's mother in 2003.  Memories of that trip still lingered and when we heard that Liz was planning a tour, we jumped at the chance!  We have traveled to many countries with various tour groups.  By comparison, Magyar Marketing comes out on top in all areas.  The personal attention we received, visits to enjoy local music and food and cultural activities were plentiful — and at no extra charge!  Our accommodations were always at unique properties and meals were mostly included and reflected local foods.  Liz has a unique perspective on tour planning.  She has a vested interest in her tours that brings the focus to learning and appreciating Hungarian history and culture.  She has prioritized her personal selection of guides and drivers.  Each one brings their own experiences and perspective of Hungary to share with us.  We readily embrace them as partners on our trip and enjoy their company.  ~ Mary Lou and Val, Minnesota
~   ~   ~   ~   ~   ~   ~   ~   ~   ~   ~   ~   ~   ~   ~   ~   ~   ~   ~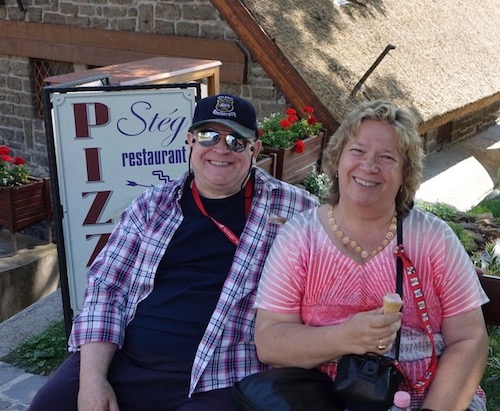 We've been traveling as a couple both independently and with organized tour operators in the U,S., Europe, South America and the Middle East for almost five decades, and we've found your operation to be among the best we've experienced. Your trips are well organized and it's easy to see that there must be a lot of planning and preparation behind these excursions and itineraries. We typically stayed at four star hotels, and this reduced the number of times we had to pack and unpack. Many of the hotels were close to city centers, our luggage was zipped into and out of each hotel so we didn't have to lug them around, we didn't have to find restaurants that were decent and open, and you did all the leg work for the sights and attractions for a full day. We put ourselves into your hands and did not regret it once.
In addition, we appreciate each tour's balance between the natural beauty of the country, the rich history and culture of my wife's homeland, and the unique products offered by the country's talented artisans not to mention the amazing local cuisine, wines and of course, pálinka. Even though I am not of Hungarian decent and have been to Hungary four times in the past, I found your tour to be very interesting and fun. After all, you don't need to be French to enjoy Paris.
We like the fact that each day's schedule is not too ambitious or exhausting, and that your itineraries leave time for relaxation and rejuvenation. Also, the air-conditioned coach was clean and comfortable, and your local tour guide and the very skilled coach driver were knowledgeable and good-natured and always ready to help with any issues that came up. So, all in all, your guests get good value for their vacation dollars and a memorable experience. ~ Frank and Hilda, New York
~   ~   ~   ~   ~   ~   ~   ~   ~   ~   ~   ~   ~   ~   ~   ~   ~   ~   ~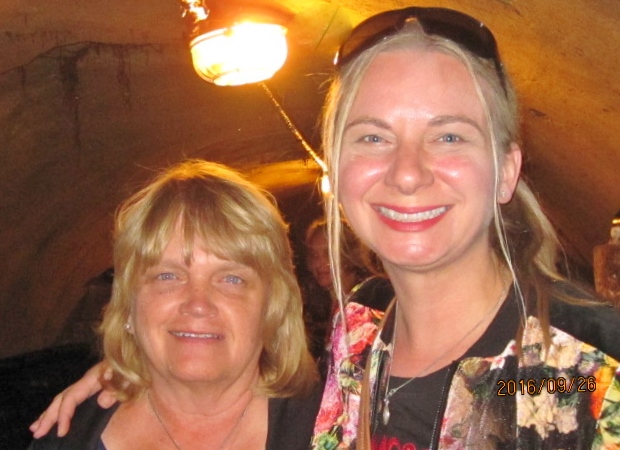 I always dreamt of traveling to Hungary (my grandparents were Hungarian) and my leery mother was going to be my traveling companion.  While browsing for paprika on the Magyar Marketing website, I came across their Hungarian tours.  I excitedly told my mother about it.  She felt that it would be safer than traveling on our own, getting lost and starving.  Even though I was looking for an adventure, I felt that this was a good compromise.  The trip turned out to be amazing.  We traveled to places that we never would have found on our own.  My vacations typically consist of bars and shopping, whereas my mom's consist more of museums and scenery but we found Hungary to be a great blend of both of our tastes.
My mother kept a journal and I was the photographer.  While the journal has been passed along to family and friends to read, the pictures are still waiting to be developed.
It has been a long time since I spent over two weeks with my mom.  We were both nervous that we would be sick of each other, but the trip was a great way to reconnect.  We were still speaking after we arrived home, and we may even consider including my dad on the next adventure.
To experience exploring cultural roots with my mom was an opportunity to learn about my heritage and brought us closer together.   The memories will last forever. ~ Jen, Michigan
~   ~   ~   ~   ~   ~   ~   ~   ~   ~   ~   ~   ~   ~   ~   ~   ~   ~   ~
Other comments from our recent tour participants:
"This vacation to Hungary has been the most wonderful experience of my life. To walk where my grandparents once lived before coming to the US was something I never thought I could do."
"We are so glad we came on this trip. We enjoyed seeing parts of Hungary we wouldn't have seen with a bigger group. I hope we get to travel with you again some day."
"I loved all of the personal participation things. I enjoyed all of the pálinka and wine tastings, including the variety of foods."
"I loved the whole Hungary trip. The number of different experiences was amazing. It was good to see both rural and urban Hungary."
"So glad I joined you! What a wonderful trip! I learned a lot about the history and the food was excellent!"
"The trip was outstanding! I want to go back! I saw things I would have never seen if traveling on my own!"
"I loved the feeling of being a part of 'the family'! I hope to do another trip with you!"
"I was moved to tears often as I experienced each new adventure!"
Interesting in joining us for one of our tours? Please call 1-800-786-7851 or email liz@magyarmarketing for a day-by-day itinerary and registration form.