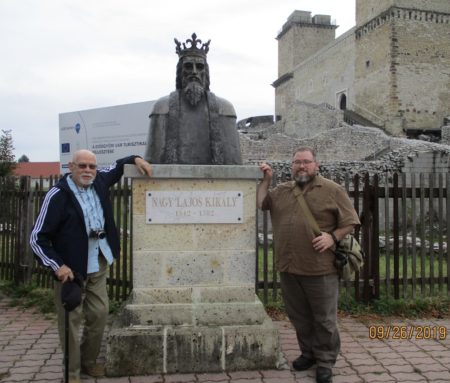 I became interested in Magyar Living Tours because my maternal grandparents immigrated to the United States in the early 20th century. I also found that if I wanted to tour Hungary, it was very difficult to find a tour that explored more than Budapest.  Luckily, I found Magyar Living Tours.  They happened to be offering a tour to Western Hungary.  My Grandmother Barbara was born in Sopron, my Grandfather Anton in the Lake Balaton area.
The tour offered a variety of experiences, booked us in excellent hotels, and provided at least two meals a day.  That tour numbered only 16 people (probably never over 20), and had an excellent guide and driver.  Hosts Liz and Don Vos are a delight with whom to travel.  A few people on the tour wanted to visit certain villages or churches because of connections to their relatives. Don and Liz tried very hard to meet  special requests or made arrangements for them.
I went on my second trip with Magyar Living Tours, September/October 2019, with my youngest son John.  It was a two week Wine & Culinary Tour.  We just loved this trip.  Most of the time we stayed in villages or smaller towns near vineyards.  No large tour buses, no traffic problems, no crowds, just wonderful smaller hotels, charming friendly people, quiet moments for reflection, and one could see the stars at night!  Again, it was a smaller group, however we traveled in a comfortable bus.  Besides touring wineries and enjoying delicious meals at the vineyards, we learned how to make wine barrels, how to blow glass, visited a Pálinka shop (fruit based brandy). and my favorite experience, visiting a village where we spent most of the day cooking from scratch: chicken soup, csiga noodles, pies, with plenty of fruit and, of course, Pálinka.
My wife and I are planning to go on the Transylvania Tour in 2022.  The Magyar Living tours offer a variety of experiences, small group travel, accommodating hosts, fine hotels —–all at a VERY reasonable price.  Visit Hungary.  There is more to Europe then Paris or Rome, just as there is more to the U.S.A. then New York city or Los Angeles!
 ~Bruzz, Indiana