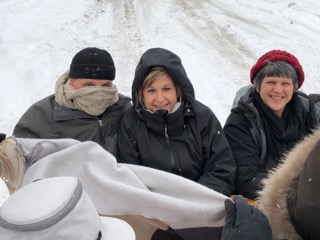 The trip of a lifetime is the best way I can explain my February 2018 tour with Magyar Marketing. I have traveled to Hungary several times but was never fully immersed in Hungarian culture until touring with this group. Since my ancestors were from Hungary, this was very important to me.
Our tour guide, Andrea, provided us with a wealth of information on Hungarian people, places, culture, and history. Part of our fascinating journey took us not far from my paternal Grandfather's birthplace of Tizadob. Liz and Andrea surprised me with a tour of Andrassy's Palace in Tizadob – where my grandfather often watched ongoing activities while working in fields close by as a young boy. I can't begin to explain the feelings running rampant at the thought of possibly walking on the same soil where my grandfather was born and raised. Little did I know, this was the beginning of two weeks of wonderful adventures. We took a short train ride through the snowy Bükk National Park in Lillafüred and enjoyed a horse-drawn sleigh ride in the countryside to learning about storks at Fehér Gólya Museum (stork museum) in Kölked and visiting Polgar Winery in Villány – where the owner reminded me so much of my dad. I felt like I was dreaming. We visited the Memorial Park of the Battle of Mohaćs where ~20,000 lives were lost and the culminating activity of trip – experiencing the Busó Festival first-hand in Mohaćs. What an experience to behold!
I will be forever grateful to Liz of Magyar Marketing, Andrea, and Christian, our skilled bus driver, for fulfilling my dream of a lifetime in becoming fully immersed in Hungarian culture. I am looking forward to future trips with Magyar Marketing and all this company has to offer.