This was one of the most enjoyable trips that my husband and I have taken. While we've been fortunate to have taken many trips to Europe, what sets this trip with Magyar Marketing apart from the rest, is the in-depth look we got of Hungary. We not only visited places that tourists don't usually travel to around the country, but also, we were able to take part in lots of fun and unusual activities.
From trying our hands at painting decorative eggs and participating in an actual paprika harvest, to a traditional fish-fry picnic in the wooded mountains, and an exciting horse show, as well as several wine tastings and pálinka tastings, we were truly immersed in the Hungarian lifestyle for the two weeks we were there. The food was to die for, as well!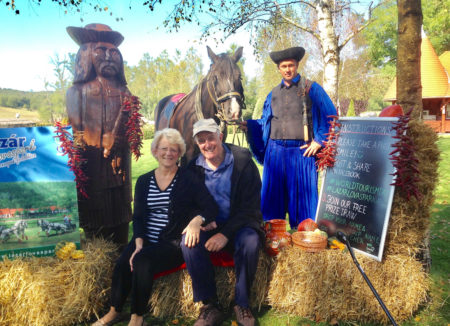 Our guide, Andrea, was an encyclopedia of information from whom we learned much about Hungarian history, from the time of the Magyars through the years of the Soviet occupation. We even covered some of the recent struggles with the European Union and the plight of displaced refugees from Syria. Our bus driver, Christian, a delight to travel with, gave us a young perspective of Hungarian life today. The small size of our group enabled us to get to know our traveling companions quite well, and the fantastic accommodations added to our enjoyment. We hope to travel with Magyar Marketing again in the future!
Thank you Liz, for this wonderful, unforgettable trip!