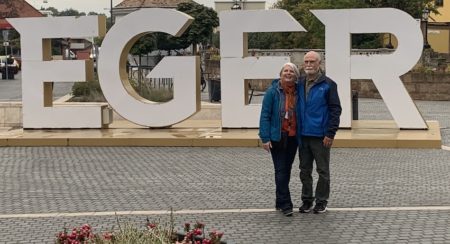 After drooling for a few years over Magyar Marketing's tours, my husband and I joined their Wine & Culinary tour in the autumn of 2019.  My father fled during the '56 Revolution and relocated to America.  I was raised in a household filled with Hungarian traditions, food, music, and love.  I had previously traveled to Hungary twice under communism and once post communism.  Each visit was filled with my extended family's visits accompanied by homemade food, wine & palinka, and their proud sharing of their town's tourist sites.  Unfortunately, when I was ready to visit again, only one family member remained in Hungary.
I'm an adventurous person by nature, but I decided to see Hungary from a tourist's perspective.  My husband and I have never traveled with a group, so we had uncertain expectations.  Prior to travel, Liz of Magyar Marketing was always promptly available to answer questions and assist with any concerns and arrangements.  She handled each detail with a lilt in her voice exhibiting the joy and passion she possesses with sharing of our mutual heritage.
We were a group of about 18 individuals ranging in age of 30's to 80's, a combination of singles, couples, parent & child, aunt and niece.  I believe each and every one of us had a wonderful twelve days touring, eating, drinking, and sharing. There was variety for all at every stop, nothing was cookie-cutter or repetitive.  The guides were extremely informative with excellent English and not only guided, but were knowledgeable in addressing every inquiry made by our group.
The tour allowed for free time at each destination for further exploration, shopping, or simply soaking in the moment on a park bench.  The tour is not a fast paced, on the bus-off the bus, on to the next destination.  Each day allowed sufficient free time to enjoy the day's tour without feeling stressed, physically or mentally.  Departure times were reasonable and our group was respectful of such.  Our lodgings were comfortable and accommodated all our needs and then some.
One item that comes to the forefront of the tour was the flexibility offered for individuals within our group.  Liz's and her guides' abilities to meet specific requests while on tour offered such a  personal touch.  I personally requested making a slight side-tour to my father's village of birth, another left our tour to visit with friends for the day and met up with our group later.  They arranged another day trip for members to visit a specific town to look for ancestral records.  An impromptu bacon roast was arranged one evening which was not part of our tour.  One of our guides assisted me in locating, procuring, and delivering a specific vintage of wine. Such impromptu personalization was welcomed and achieved.
Magyar Marketing's tour was well organized offering sufficient variety to pique everyone's interest.  Liz, her guides, and drivers excelled throughout. My husband and I would certainly not hesitate to tour again with Magyar Marketing in the future……the sooner the better!
Helen & John, New York