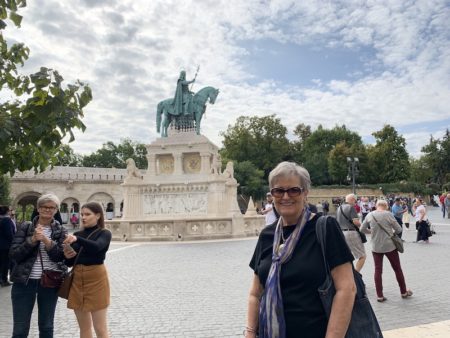 Last fall, I traveled to Hungary on a wine and culinary tour with Magyar Living. It was my first trip with this company and a wonderful experience. All my grandparents emigrated from Hungary in the early 1900's, so I had a keen interest in learning more about the culture and history.
Our guides were extremely knowledgeable. They so eloquently presented historical facts as we
journeyed through northeastern Hungary including a day trip to Slovakia, and then to Budapest for our last three nights. With the exception of Budapest, we weren't competing with lots of tourists and buses, confirming how unique our tour was.
Our meals included everything from modern Hungarian cuisine to the more traditional. The
pogácsa/pálinka greeting was something we got to enjoy at several stops starting with Day 1 on the bus!
There were excursions in small towns to see various artisans demonstrating their crafts including crystal, glass, cooper, vinegar, and more. There were several wine and other spirits tours – small wineries where the owners did the tour and served a meal, wine tasting in a vineyard, a craft beer tasting, a pálinka museum, a Unicum museum – all with more than adequate sampling included! There were visits to a wide variety of museums and special sites – a doll museum in a small town, an internment camp from the Communist period, Helia D cosmetics, a horse show followed by a huge lunch with gypsy musicians, Parliament tour, evening cruise on the Danube, and so much more.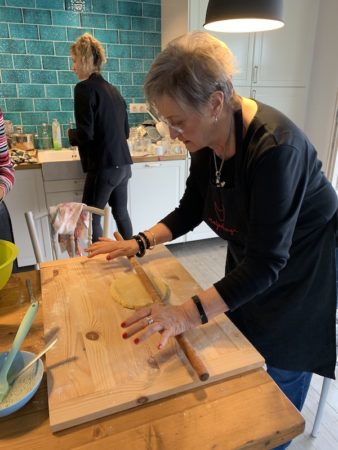 We had an all day village experience in Tard, starting with a pálinka and pogácsa welcome, of course.
The day included cooking, baking, and noodle making lessons. We toured historic homes, learned
Hungarian folk songs, had embroidery lessons, had a short but excellent organ concert at the village
church, dressed a couple from our tour in traditional clothing – all so much fun! We were free to
participate in any activity, or just observe and ultimately enjoy the lovely meal we helped to prepare.
Because of the smaller tour group size and the presence of Don and Liz (Magyar Living owners) on the tour, there was more flexibility to accommodate individual requests and to adjust for the unexpected
(which can always be expected when traveling)! I was traveling solo, but never felt alone – everyone in the group was congenial. I'm 76 years old and, like many in my age group, have some challenges in terms of walking, getting on and off tour busses, etc. However, those limitations never kept me from
enjoying all the experiences. There was always a "work around" – elevator instead of stairs, a fellow
tour member willing to give a hand if no handrail, etc. There was only one mini tour to a castle high on a rocky hillside that I skipped but was able to entertain myself with an interesting medieval restaurant on site and homemade ice cream from a lady with a small vendor cart. She was a local and made the ice cream herself with fruit from her orchard – how delightful!
Sally, Arizona