Magyar Marketing Newsletter #125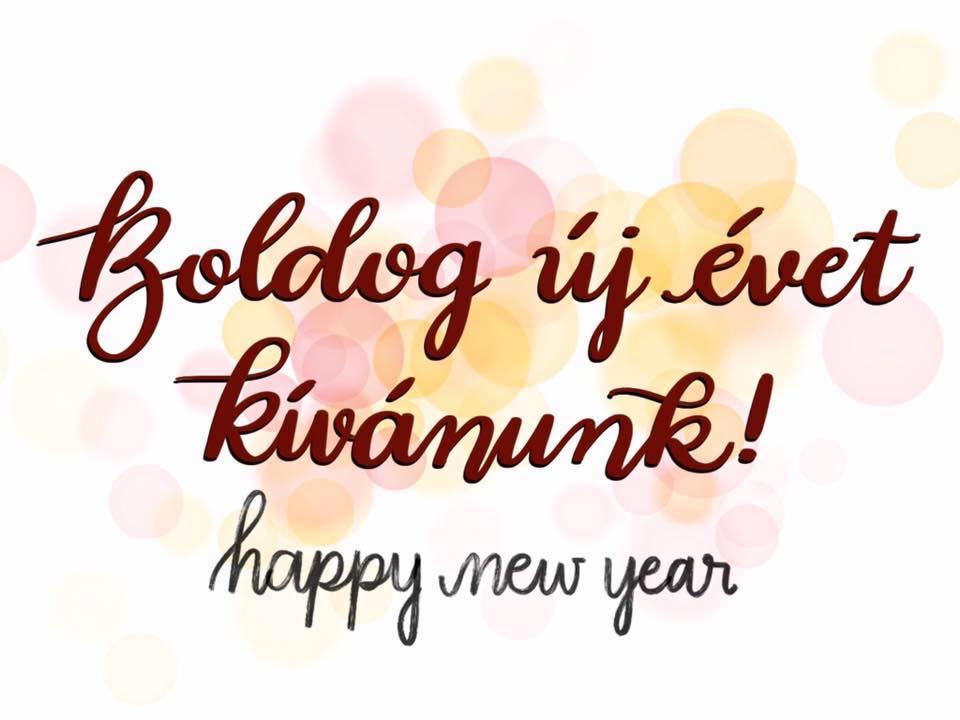 Welcome!
Isten Hozott!
January 2017
Even though the Christmas season is pretty busy with packing and shipping orders we made sure we took time out for some fun! We made (and quickly consumed) chicken paprikás, rakott krumpli, almás pite, walnut kalács, mezeskalács, raspberry kifli, and apricot kiflis. While we are definitely more well-versed in Hungarian foods, we made sure we checked in with my husband's Dutch and German heritage this year too. We made Dutch letters and bierocks (aka: runzas). The bierocks have a German connection but they are also a fun reminder of our many years in Nebraska. We also made potato/cheese pierogies! I grew up in Youngstown, Ohio and every Friday during Lent many churches in the area sold pierogies. When I was visiting my relatives in Hungary, Klári Néni made some lekvár derelye which was fantastic and very similar to a prune pierogie. I don't know if the Hungarian name for the potato version is also derelye. If you know, send me an email at liz@magyarmarketing.com
And if all that doesn't sound like enough activity, I planned a special day with one of my favorite creative friends! Using maps and stamps and embroidery we filled several hours with bookmarks, Christmas ornaments, and coasters and coupled it with some delicious food and great conversation. Even though I am not a natural crafter it was a very relaxing and fun afternoon! I will share some of our creations in upcoming articles!
***   ***   ***   ***   ***   ***   ***   ***   ***   ***   ***   ***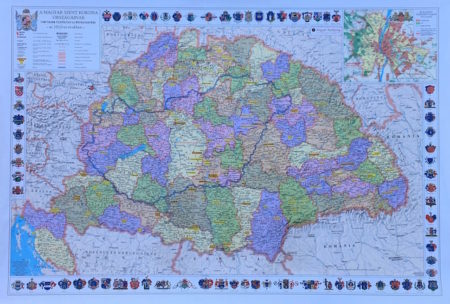 Special Announcements
We are excited to be able to offer this full color circa 1910 Laminated Map of Hungary now with the boundary lines of current Hungary outlined and county crests around the edges. This large map is approximately 24″ x 35″. A great conversation piece. This is a wonderful item for classroom teaching, genealogists, Hungarian history buffs, and Hungarian clubs. Great for den or office! We worked with a map maker in Hungary to design this map based on feedback from our customers! Click here to order https://magyarmarketing.com/product/laminated-map-of-hungary/
***   ***   ***   ***   ***   ***   ***   ***   ***   ***   ***   ***
Now Shipping!
Looking for Hungarian style meats and noodles for those comfort food meals? Need a refill on your walnut or poppyseed kalács? If you are looking for a nice touch for an afternoon coffee or tea with a friend, a slice or two of walnut or poppyseed beigli will hit the spot! Now that we have returned from our visit to Indiana we are back to our regular routine. Click here to check out our website!
***   ***   ***   ***   ***   ***   ***   ***   ***   ***   ***   ***
Valentine's Day
Valentine's Day is around the corner and while I will share some resources in the next newsletter, I want to encourage those who are taking on a special project with a Hungarian touch to get busy planning! If you are into cooking, a special Hungarian dinner or dessert is a great way to express love! 
***   ***   ***   ***   ***   ***   ***   ***   ***   ***   ***   ***
1956 Revolution Resources
We are at the 60 year mark for many of the people who came over from Hungary as a direct result of the Hungarian Revolution of 1956. My husband and I went to the Festival of Trees at the Museum of the American Hungarian Foundation and to visit their current exhibition about Camp Kilmer. On our way, we drove around the Camp Kilmer property much of which has been utilized by Rutgers University as a campus extension while part of it is residential and commercial. My parents helped resettle Hungarian refugees during the months following the revolution and I know my dad went to Camp Kilmer multiple times. However, I think the Operation Mercy Video (which I have shared before) has been a useful way to learn a little more about Camp Kilmer. While we were in Indiana, we visited with a friend who came through Camp Kilmer and he had a few stories to tell. It is amazing how many people in the U.S. have a connection to the Hungarian Revolution of 1956.  Check out the Memory Project for some fascinating interviews from those who left Hungary during that time.
***   ***   ***   ***   ***   ***   ***   ***   ***   ***   ***   ***
Articles of Interest
If learning Hungarian is one of your goals for 2017, take a look at this list of resources!
Looking for information on our 2017 trips to Hungary? Click here for more information!
Exploring your heritage through travel will give you a unique perspective to your family history! Here is an article with some great tips!
Hungary is experiencing some record cold temperatures! Here are some beautiful images of frozen Lake Balaton.
An article on an interesting book I hope to read this year — Somehow I Am Different: Narratives of Searching and Belonging in Jewish Budapest by Alyssa Petersel
Click here to see last month's newsletter!
Wishing you all the best!
Minden jót!
Liz and Don Vos
Lauren and Josh, Landon and Grace, Elizabeth and Hannah
Our mission is to provide you with resources and encouragement to discover, celebrate, and share your Hungarian heritage with friends and family!
1.800.786.7851
liz@magyarmarketing.com
To Shop: Magyar Marketing
To Read Our Articles: Magyar Living