Magyar Marketing Newsletter #124
December 2016
Welcome!
Isten Hozott!
'Tis the season for families, friends, kifli, kalács, mézeskalács, szaloncukor, Christmas carols, and remembering Jesus' birth! Sometimes an aroma, taste, or song can bring back memories that have been tucked away. I remember the way the szaloncukor wrappings used to look (see photo above). I suppose it is just nostalgia, but it does remind me of days (and people) gone by. I miss "that look" but I also miss the people and sounds and experiences that went along with it. Since my mom is no longer here to carry on the Hungarian cooking traditions, it is up to my generation to pass along the flavors to our families. Maybe your mother or grandmother made all of the kifli and kalács during the holidays and since she has passed away no one has stepped in to fill that void. If you can, dig out the recipe and make one of those family Christmas favorites. They may not turn out perfectly the first few times but you will be rewarded as you walk through the process. There is something about working with the dough and remembering the effort and energy and love that went into feeding the family. And while the faces and traditions may change through the years, the central focus remains. Even though we all have a variety of traditions and experiences during this holiday season, I hope we all can agree on the importance of time with loved ones and a spirit of giving. Many years ago, my mother wrote a short story about Christmas in Hungary. Even though this was not my experience growing up, reading it is a way to connect with my Hungarian heritage because it is a traditional event:
   There was a loud knock at the front door.
   "Someone is at the door, Mother," called Ilona excitedly from the living room. She pulled        the curtain aside a little and peeked out. "Oh Mother, Daddy, Grandma, Grandpa, come            quickly! They've come to OUR house. They're here. They're here!"
   Within minutes the room was filled with boys and girls dressed in costume. Some children    were dressed as shepherds, and others as kings. Ilona's older brother Gabor was dressed    up as Joseph, another biblical character. [Read more…]
There are a variety of opportunities during this season to participate in Christmas gatherings at Hungarian clubs and churches around the U.S. and Canada. We will be attending the Festival of Trees in New Brunswick, NJ on December 11th. Click here to see other events we are aware of in the coming weeks!
***     ***     ***     ***     ***     ***     ***     ***     ***     ***     ***     ***
SZALONCUKOR and KONYAKOSMEGGY
We still have both of these traditional Hungarian treats available: Hungarian Christmas candies and delicious cherries soaked in cognac and dipped in chocolate! If you didn't grow up with these candies I encourage you to give them a try! There is something special about reviving special ethnic family traditions and the Hungarian heritage is full of many to choose from.
***     ***     ***     ***     ***     ***     ***     ***     ***     ***     ***     ***
GINGERBREAD – MÉZESKALÁCS
Gingerbread is a very common item in Hungary, often intricately decorated.  I didn't grow up with the tradition of creating gingerbread houses but when our children were small we were invited to a family gingerbread house event and since then I have been to a few gingerbread displays and love to see the creations. An interesting way to combine this creative outlet with Hungarian heritage would be to construct gingerbread buildings based on Hungarian village homes or buildings. Need some inspiration for a project like this? I think this might be a great project during the winter season! Check out our article at Magyar Living and if you tackle a project like this, I would love to know! I think those crunchy chow mein noodles dipped in chocolate would make great storks nest, don't you?
***     ***     ***     ***     ***     ***     ***     ***     ***     ***     ***     ***
Hungarian Embroidery Patterns
Looking for some Hungarian embroidery patterns? We have a limited supply of this looseleaf book and, if you haven't noticed, Hungarian embroidery books are not easy to locate! CLICK HERE to check out this resource!
EMBROIDERED CHRISTMAS ORNAMENTS
Christmas ornaments made in Hungary add a wonderful Hungarian touch to any Christmas tree. If you are able to embroider, consider undertaking one of Hungary's many embroidery styles. If you aren't handy with a needle, check out our large selection of Christmas Ornaments, handmade in Hungary.
***     ***     ***     ***     ***     ***     ***     ***     ***     ***     ***     ***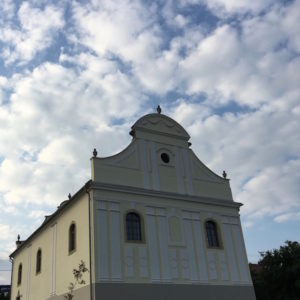 The Jewish Connection in Mád, Hungary
Whenever I travel to the northeastern region of Hungary, I end up in the Tokaj Wine Region and, often, in Mád. When I stopped in to check out the synagogue and the accompanying museum I discovered there is a strong connection to Brooklyn, New York which is just a short train ride from where we live! I emailed the gentleman in Brooklyn, the son of the revered father Rabbi Eliezer Ehrenreich, the last Chief Rabbi of the town Mád. He graciously sent me a PDF that gives a lot of information about the heritage of his father and the town of Mád. If you are interested in this information, please send an email to liz@magyarmarketing.com and request "The Mád Connection" and I will send it to you!
***     ***     ***     ***     ***     ***     ***     ***     ***     ***     ***     ***
Queen of Hungary's Water
Herbal mixtures seem pretty common for Hungarians and that might explain why my mom had so many boxes of organic herbal teas in her cupboard throughout my life! A new friend decided to "brew" Queen of Hungary's Water and make her own facial toner. As she was looking at the recipe she realized she grew many of the needed flowers on her farm so growing and gathering the flowers was fairly effortless.  When she posted a little about her process, I wanted to know more and I asked her to write an article about it so we could all learn about this history of this beauty treatment. Read about it here!
***     ***     ***     ***     ***     ***     ***     ***     ***     ***     ***     ***
LIKE us on FACEBOOK and FOLLOW us on INSTAGRAM!
Join the conversation! We often share last minute items of interest between each newsletter on our Facebook page and interesting photos on Instagram. It's just another fun way to be connected!
WE WILL BE CLOSED
From FRIDAY, DECEMBER 23th – TUESDAY, JANUARY 10th! We will be traveling to Indiana. Be sure to plan ahead if you want some special Hungarian items for your New Year celebration and other visits with family and friends!
Boldog Karácsonyt és Boldog Új Évet!
Merry Christmas and Happy New Year!
Liz and Don Vos
Lauren and Josh, Landon and Grace, Elizabeth and Hannah
Our mission is to provide you with resources and encouragement to discover, celebrate, and share your Hungarian heritage with friends and family!
1.800.786.7851
liz@magyarmarketing.com
To Shop: Magyar Marketing
To Read Our Articles: Magyar Living
Find additional content, photos, and more here:
Facebook: Magyar Marketing
Instagram: magyarmarketing
Twitter: @MagyarMarketing