Magyar Marketing Newsletter #122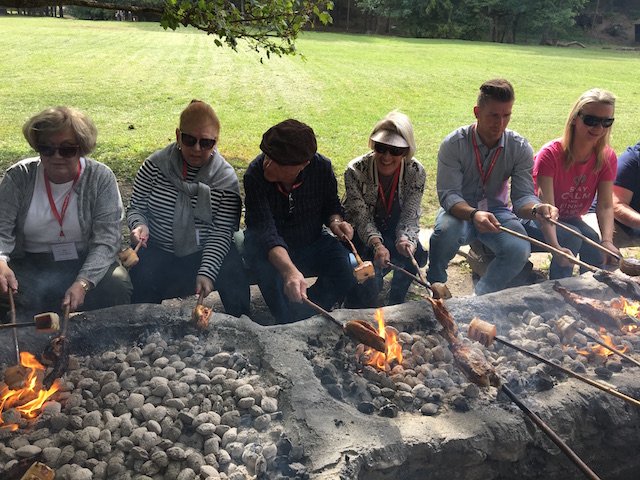 Welcome!
Isten Hozott!
Is it really October already?
The Fall Adventure in Hungary tour group is back and we had a wonderful time! We had near perfect weather as we explored Kecskemét, Eger, Kalocsa, Lillafüred, Nyírbátor, Budapest, the Tokaj Wine Region and many other areas! We picked peppers, sampled chocolates, enjoyed specialty wines and foods, and watched folk artisans at work. For information on our tours scheduled for 2017, please call 1-800-786-7851. We specialize in smaller sized groups of people who either have Hungarian heritage or love someone who does. Our tours feature a wide variety of experiences, great educational opportunities, wonderful foods, and a face-to-face connection with various folk traditions of Hungary. Here are some observations from a few of our participants:
"This vacation to Hungary has been the most wonderful experience of my life. To walk where my grandparents once lived before coming to the US was something I never thought I could do."
"We are so glad we came on this trip. We enjoyed seeing parts of Hungary we wouldn't have seen with a bigger group. I hope we get to travel with you again some day."
"I loved all of the personal participation things. I enjoyed all of the palinka and wine tastings, including the variety of foods."
"I loved the whole Hungary trip. The number of different experiences was amazing. It was good to see both rural and urban Hungary."
*** *** *** *** *** *** *** *** ***
This time of year brings a lot of events in the many Hungarian communities across the U.S. There are many Grape Harvest Festivals as well as events commemorating the 60th anniversary of the 1956 Hungarian Revolution —- here is a link to the events we have details for!
Sometimes I hear complaints about the lack of Hungarian events in the U.S. While it is true that some Hungarian groups and communities have experienced severe population challenges, there are still quite a few things happening all over the U.S. When I am in Hungary visiting there is always a great interest in what we are doing in the U.S. to maintain Hungarian culture. Honestly, the Hungarians in Hungary that I have talked to are thrilled we are doing anything. Please keep connecting with your Hungarian culture however you can!
*** *** *** *** *** *** *** *** ***
I will be attending the Hungarian Festival in Sarasota FL! Please come up and introduce yourself if you get to come. This is the 10th year for this event and it is full of great Hungarian fun!
*** *** *** *** *** *** *** *** ***
The Hungarian Calendar for 2017 should be ready to ship by the end of October. Each month there is a beautiful photo of Hungary and the Hungarian name days are listed. The months and days of the week are in both Hungarian and English. The price is the same as it has been — $21 + shipping and handling. If you would like me to set aside some for you as soon as they are in stock, please email at liz@magyarmarketing.com or give me a call or click here.
*** *** *** *** *** *** *** *** ***
This book has been a family favorite of ours for many years!
Ten year old Jancsi has spent his entire life out in the Hungarian countryside with his mother and father but soon Jancsi's "delicate" cousin Kate from Budapest will come to stay with them! Jancsi learns what it means to be a man while Kate learns to reconnect with the land her father grew up on.
Set in the early 1910s somewhere on the Puszta of Hungary, Kate and Jancsi test each other's will while learning to live on a farm with every animal you can imagine! From teaching Kate to ride a horse, hearing stories from the shepherds on the plain, attending the traveling fair, to a dangerous encounter with gypsies, The Good Master will keep readers of all ages on the edge of their seats!
This lovely story is perfect for children 9+ to read on their own however the whole family will enjoy reading this tale together! Click here to order!
*** *** *** *** *** *** *** *** ***
Happening NOW! There are opportunities to see this event in several locations in the U. S. starting in New Brunswick, NJ on October 14th. Click here for dates, times, and ticket ordering details!
From the Spirit of Hungary Facebook page:
"SPIRIT OF HUNGARY" was choreographed by Zoltán Zsuráfszky, but who is this man?
Zoltán Zsuráfszky, the Artistic Director of the Hungarian National Dance Ensemble is one of the most accomplished and decorated choreographers in Hungary today. Zsuráfszky has received the highest recognitions possible in Hungary for artistic achievement, including the "Kossuth Prize" and the "Exceptional Artist" recognition.
Prior to becoming the choreographer and artistic director of the Ensemble, Zsuráfszky directed the groundbreaking Kodály Ensemble in Budapest and the Budapest Ensemble, touring North America four times with popular performances of "Csárdás" and "Gypsy Spirit", presented by Columbia Artists. Although, he is well versed in all dance genres, his major achievements are in folkloric presentations, which is not surprising since he is a renowned collector and avid researcher of Hungarian folkdance, having spent many months in remote villages to document and learn the folkdances directly from the villagers. He has an exceptional talent in applying these authentic folkdances to the stage without losing their vibrancy, authenticity, and energy.
*** *** *** *** *** *** *** *** ***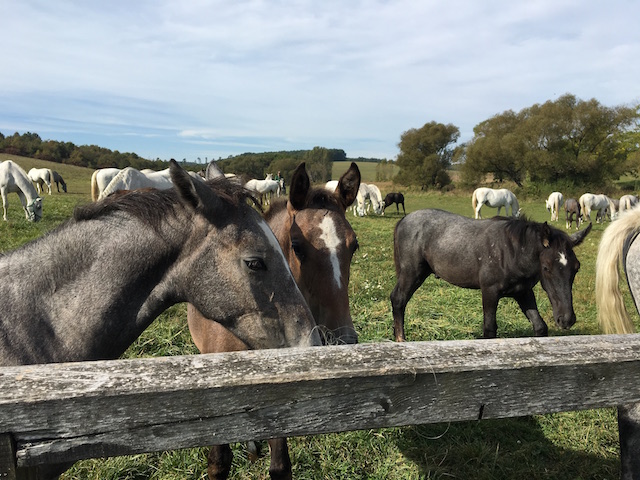 We have tours scheduled for Transylvania (the Hungarian area of Romania) next year as well as a tour of Hungary that will take us to areas around Pécs and Lake Balaton. I would love to have you join us on our next trip! Please call me at 1-800-786-7851 if you would like some more information — space is limited so reserve your place now!
This year we will have a few special editions of our newsletter with details on our Christmas products, so don't be surprised by the extra communication! We are still waiting to hear when the szaloncukor will be in the U.S. and the flavors we will have this year. All those details and the ordering deadlines for Christmas delivery will be in this month's special edition! If you would like to receive the newsletters in your email inbox, please call me and I can get you on the list!
To see the September newsletter, CLICK HERE!
Our mission is to provide you with resources and encouragement to discover, celebrate, and share your Hungarian heritage with friends and family!
All the best!
Liz and Don Vos
Lauren and Josh, Landon and Grace, Elizabeth and Hannah