Welcome!
Isten Hozott!
Whether you know a little or a lot about being Hungarian we think there is always more to learn!
Recently we were with the Hungarians in East Chicago, Indiana for the Hungarian American Citizens Club's annual picnic! The cooking crew spent three days making kolbász and all sorts of other Hungarian goodies to create a fun and delicious atmosphere with great food and conversation. It was fun to see so many people enjoying their time together, reminiscing, and celebrating their Hungarian heritage! While we were in the area, we were also able to pay a visit to Finom Coffee in Chicago! It's a sweet little spot that lives up to its name (finom means delicious in Hungarian)! Check out their website here! We don't often walk into a coffee shop in the USA and see books in Hungarian but if you are a fluent reader you will find some to look through while you wait for your order….too bad my Hungarian reading skills aren't up to snuff!
Magyar Marketing has been around since 1988 and our goal it to help you and your family stay connected to your Hungarian heritage! We offer products and resources to do that via our yearly catalog and monthly e-newsletter. Don't worry, we never rent or sell your name!
Our Catalog
Have you seen our catalog? We send it out once a year in a mailing in October! We are getting ready to print a new one and would love for you to receive it! Please email Liz@MagyarMarketing.com and request a catalog.
Our E-Newsletter
Each month we share recipes, Hungarian events, and resources to help you maintain and share your Hungarian heritage. Our e-newsletter helps you stay connected with all things Hungarian. Even if you follow us on Facebook, we know only a small percentage of what we post gets to you as a follower. If you have been following us for a while, you know each month we share important information about Hungarian events around the USA as well as other items of interest! Send an email to Liz@MagyarMarketing.com to sign up so we can send it to your inbox so you never miss an issue!
Are you missing your Hungarian neighborhood? We often hear people express deep sadness about the changes in the Hungarian neighborhoods all around the United States but it does happen to every group of immigrants that come and settle in the U.S.! As people arrive and try to make their way, they take what is affordable and they eventually move to the "better" side of town. Now, "better" is definitely a matter of opinion but people grow and change and marry or go to college and move away. It is a part of how life goes. My brothers all stayed fairly close to where we grew up in Youngstown, Ohio but I have lived in Nebraska, Florida, Indiana, and New York. So I am the one who has wandered around and looked for Hungarian things wherever I have lived!
As I read the first chapter of this book, the statements from the local neighborhoods were so similar to what I have heard from Hungarian communities around the United States. I just started this book but it is very interesting — you can probably request it from your local library! It doesn't just talk about Hungarians but the sentiments expressed can apply to every people group. We love that this explores New York, New York since we lived nearby for four years.
Want to learn or brush up on your Hungarian? I am growing in my ability to understand and participate in conversations in Hungarian. This link takes you to a great FREE guide to learning Hungarian step by step. We met Juli and Flo last year and talked about the variety of challenges Hungarian learners face. They have created and provide a lot of free resources but their Smart Hungarian Audio Course takes it up a few notches. Sign up for the Smart Hungarian Audio Course using the discount code MAGYAR at checkout and receive a 40% discount on the program! It really is a great deal!
Our August Let's Cook Hungarian Challenge is lecsó! Even if you aren't officially participating in our challenge, you can expand your Hungarian cooking experience by making this family favorite and this is the best time of year to make this dish! If you have your own garden or the opportunity to shop at a local farmer's market, the ingredients needed are typically plentiful in August and September. Fresh is absolutely the best way to go with this dish! We love it over rice or with kolbász or eggs.
If you make it, let us know what you think! And, if you don't have a favorite recipe, check this one out from Zsuzsa! Jó étvágyat!! Enjoy your meal!
A special thank you to Clare S. from Pennsylvania! She is participating in our challenge this year and allowed me to borrow her photo of her lecsó-in-progress!
Did you know that Hungary has a Cake of the Year competition? Each year, chefs from all around Hungary compete for this honor of having their cake named in the top spot. There is also a competition for the Sugar-free Cake of the Year! We will be trying the  2019 Cake of the Year on our Fall Wine and Culinary Tour! Check out the details on the new cake here! Want to join us? Come along and enjoy the beauty of Hungary with us! Pictured is the winning cake of the year from 2017 titled "Balatoni Habos Mogyoró"!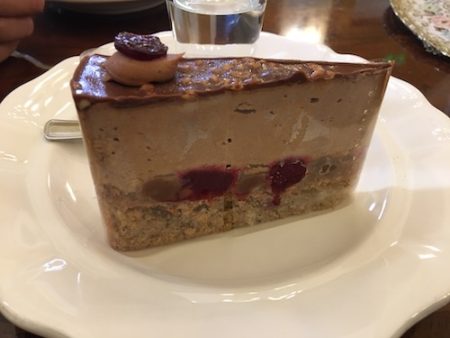 August is a busy month for us! We are looking forward to attending the Birmingham Ethnic Festival in Toledo, Ohio on August 18th on Consaul Street starting at 12 noon! Contact me for more information if you would love to go but haven't been there before! If you don't see your event listed here, send the digital poster to Liz@MagyarMarketing.com and we will promote it! While we are not be able to attend every event we promote, we think it is important to spread the word!
Getting together with family?
Our conversation starters are a great way to learn a little more about one another in a fun way! Want to get the younger generations involved? Pair the younger generation with the older to conduct interviews face-to-face, over the phone, or video chat! You can even record family members answering questions for a video archive project!
Contact Liz@MagyarMarketing.com to request a copy of the conversation starter questions! It's a great way to learn a little family history and strengthen family relationships! Of course, be sure to serve some delicious Hungarian food too! That always gets the memories and conversation flowing!
We hope to see you soon at one of the upcoming Hungarian festivals!
All the best!
Minden jót!
Liz and Don Vos
Our mission is to provide you with resources and encouragement to discover, celebrate, and share your Hungarian heritage with friends and family!
1.800.786.7851
To Shop: Magyar Marketing
To See Our Articles and Recipes: Magyar Living
Copyright © 2019 Magyar Living, All rights reserved.