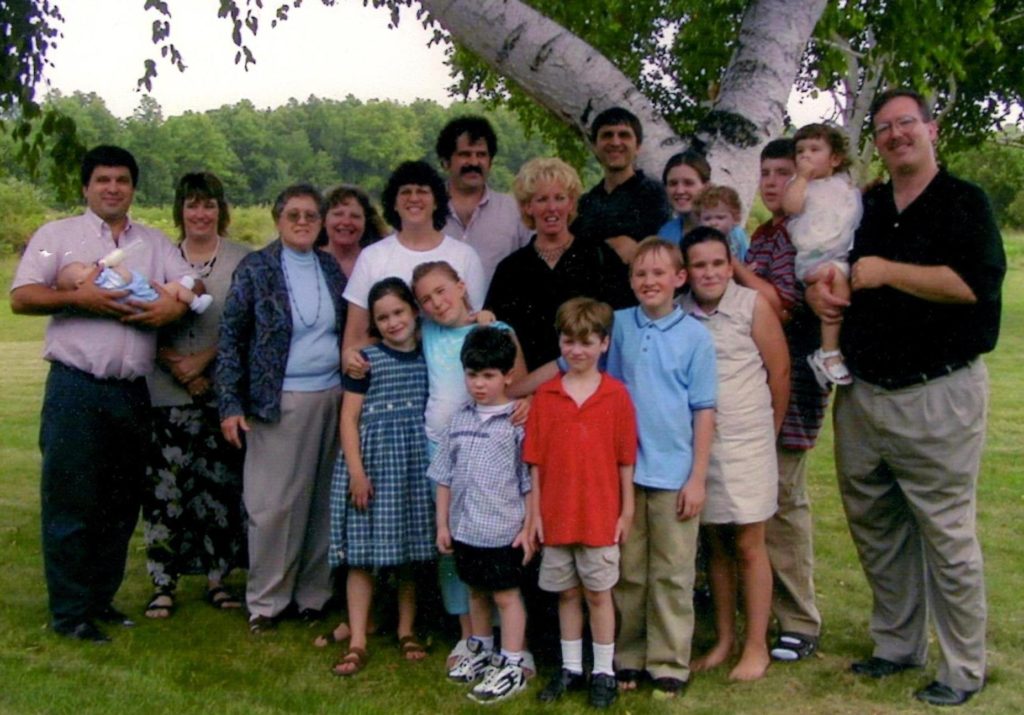 Welcome! Isten Hozott!
If you were blessed to know my mom, Elizabeth A. Szabo, you know what an amazing person she was! She created Magyar Marketing 30 years ago to help people share the Hungarian heritage with the next generation. Here she is pictured with all of her immediate family. By engaging each of her four children, their spouses, grandchildren, generations of cousins, and other relatives in a variety of aspects of the business, she made an amazing impact on each person in the family. While not everyone is a part of the day-to-day business, each of us feels a strong connection to our Hungarian heritage. It is a part of the fabric of our lives and imprinted on each one of us. One person can have a huge influence on several generations. Are you that person in your family?
~     ~     ~     ~     ~     ~     ~     ~     ~     ~     ~     ~     ~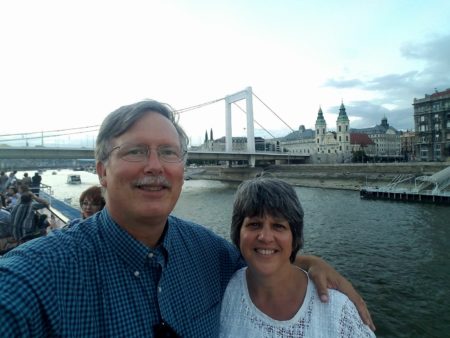 We will be in Hungary for two weeks!
Don and I are headed to Hungary for the 2018 Fall Wine and Culinary Tour. We will not be shipping orders from September 19th – October 8th. Please order by September 12th if you want us to mail your package before we leave. If you place your order while we are gone, we will ship it out as soon as we return. If you call us during that time, please leave a message and someone will get back to you. Thank you for your patience!
There will be 20 of us traveling together for two weeks. We are looking forward to meeting those we don't know already and having a fantastic time with a wonderful itinerary! On this trip we have a set of sisters, a mother and son, several different cousin combinations, several married couples, and friends that love to travel together. Not everyone on our tours is Hungarian, nor do they need to be – the only requirement is to be ready to have a great time.
Interested in learning more about our tours? Please contact me at 1-800-786-7851 or email liz@magyarmarketing.com for registration forms and a day-to-day itinerary! Here are the links to some details:
Transylvania Tour: June 6 – 20, 2019
Wine and Culinary Tour of Hungary: September 20 – October 3, 2019
Early Bird discount of $100 per person if you place your deposit by September 15, 2018!
Christmas Market Tour: November 26 – December 4, 2019
Early Bird discount of $100 person if you place your deposit by September 15, 2018!
~     ~     ~     ~     ~     ~     ~     ~     ~     ~     ~     ~     ~
We are working on our catalog
We have been working hard on our catalog for 2018 – 2019, and we're getting things finalized so we can send it to the printer. We plan to get it mailed out in October, so if your address has changed, you didn't receive one last year, or you know of people who are interested in the work we do, please send us an email with a complete name and address so we can update our records! We value your trust. We don't sell or release our mailing lists to other companies or organizations.
~     ~     ~     ~     ~     ~     ~     ~     ~     ~     ~     ~     ~
NEW PRODUCT! Hungarian Crest Mug
We have revised our Hungarian crest mug! I think you will love it! On one side is the Hungarian crest with two angels around it and the entire first verse of the Hungarian National Anthem (Magyar Himnusz) is on the other side in Hungarian. When you order this mug you will also receive an English translation of this beautiful prayer. There are eight verses all together, but most people are only familiar with the first one because it is the verse typically sung on days of great significance in Hungary. Click here to order!
~     ~     ~     ~     ~     ~     ~     ~     ~     ~     ~     ~     ~
NEW PRODUCT! Sterling Silver "Szeretlek" Bracelet
"Szeretlek" means "I love you" in Hungarian. We are working with a talented jeweler to create several new pieces with Hungarian folk art themes.
We are thrilled to add these beautiful Hungarian folk art bracelets to our product line! We a few listed at our website and we also will have a few earrings and necklaces to match, but we are in the process of adding them to the website, so check back soon! Click here to order! Please allow up to 3 weeks for delivery.
~     ~     ~     ~     ~     ~     ~     ~     ~     ~     ~     ~     ~
Celebrating 30 years! Instagram Giveaway!
We are celebrating Magyar Marketing's 30th birthday! We are almost half way done hosting a 30-day giveaway on Instagram, and there are still lots of goodies left to win! Prizes include our favorite mugs, books, bumper stickers, and more! Follow Magyar Marketing on Instagram (if you don't already) to see how you can enter to win!
~     ~     ~     ~     ~     ~     ~     ~     ~     ~     ~     ~     ~
We are headed to Michigan next week!
If you get to come to the Pig Roast at the Hungarian American Cultural Center in Taylor MI, be sure to stop by the Magyar Marketing tent and say hello! We will be bringing a selection of our products to sell. Remember: If you purchase at the festival, you avoid those pesky shipping charges!
Also coming up in the Allen Park, MI area are Hungarian cooking classes! I wish every community with a good Hungarian cook who is passionate about sharing their recipes and techniques with others would host small classes and teach Hungarian cooking techniques! Click here for more information on dates, times, and dishes being taught!
Have you ever visited the Hungarian Strudel Shop in Allen Park, Michigan? If you have not, you are missing out! Here is a video we created just to get you in the mood for a trip to pick some up! They are cash only and have limited hours but their products are sooo worth it! They are located at 6816 Park Ave, Allen Park, MI 48101 and their phone number is 1 (313) 383-3440.
I don't know that we will get to visit The Hungarian Rhapsody, a great restaurant in Southgate, MI this time around but you definitely should go if you haven't been there recently! It's a great place!
~     ~     ~     ~     ~     ~     ~     ~     ~     ~     ~     ~     ~
Upcoming Hungarian Events!
I hope the Spirit of Hungary 2018 North American Tour will be in a city near you. We have a lot of events listed at the Magyar Living website and we encourage you to see what is happening, even if it isn't happening near you. It's great to know that there are people celebrating their Hungarian heritage from coast to coast! If you know of events that are open to all (including English only guests) please be sure to get us the promotional material. Getting the word out is so important for events both large and small! Be sure to like Magyar Marketing on Facebook because we promote all the events as soon as we hear about them. Be sure to check our events page regularly so you can be encouraged — the Hungarian Spirit is alive and well in the U.S.A.!
~     ~     ~     ~     ~     ~     ~     ~     ~     ~     ~     ~     ~
Some Great Resources
Do you know about Hungary's Heroes in the American Civil War?
Check out our video of a Blue Dye Workshop in Hungary!
Complete Archive of Ellis Island Records—Now Online for Free!
Have you recognized Budapest scenery in movies?
~     ~     ~     ~     ~     ~     ~     ~     ~     ~     ~     ~     ~
Did you miss last month's newsletter? Check it out here!
Thank you for your support of our family business!
Liz and Don
Lauren and Josh, Landon and Grace, Elizabeth and Hannah
Our mission is to provide you with resources and encouragement to discover, celebrate, and share your Hungarian heritage with friends and family!
1.800.786.7851
liz@magyarmarketing.com
To Shop: Magyar Marketing
For Great Resources: Magyar Living