Magyar Marketing Newsletter #134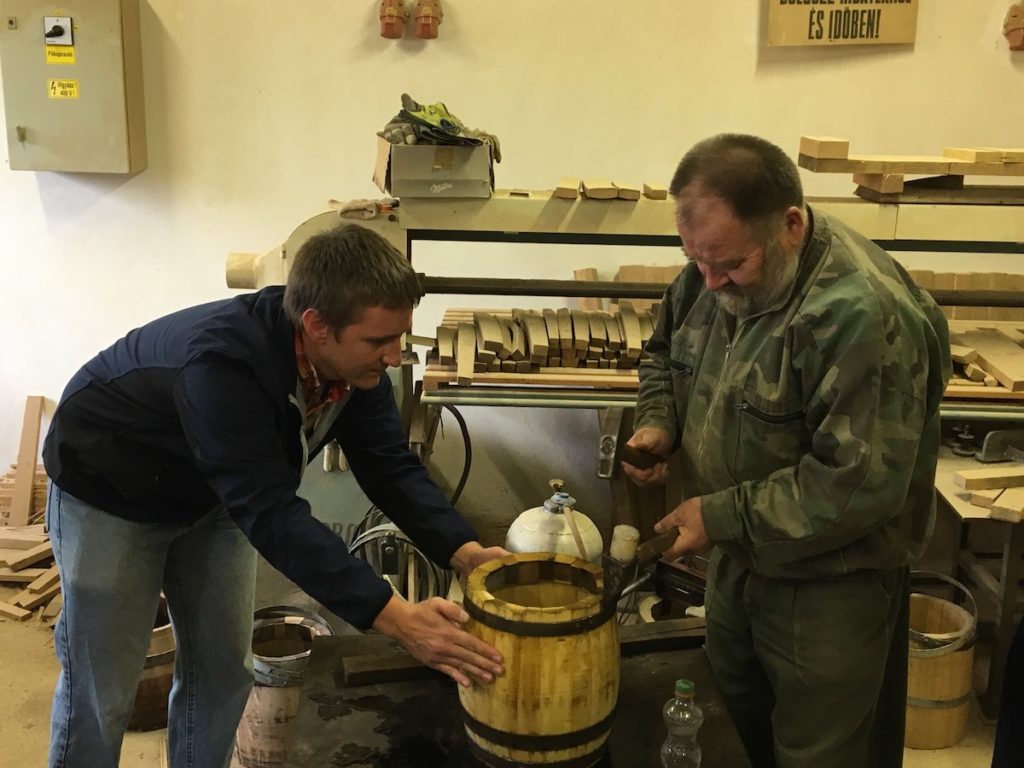 October 2017
Welcome! Isten Hozott!
If you are looking for encouragement and support in sharing Hungarian heritage with your family and friends, you have come to the right place! Magyar Marketing was developed by my mother in 1988 and continues to be a small family business with a passion for sharing all things Hungarian. Connecting to your Hungarian heritage can happen through gastronomy, genealogy, music, art, travel, history, science, folk art, wine-making and language. There is something very satisfying in making connections with those who have gone before us by considering their lives and experiences and appreciating their struggles and determination and successes. Explore what we have to offer and let us know what you think! If you would like to receive our newsletter in your email inbox, send me an email to liz@magyarmarketing.com with SUBSCRIBE in the subject line and I will add you. You can unsubscribe at any time but we always include fun and useful information so we are pretty sure you will like it!
*** *** *** *** *** *** *** *** *** *** *** *** *** *** *** *** *** ***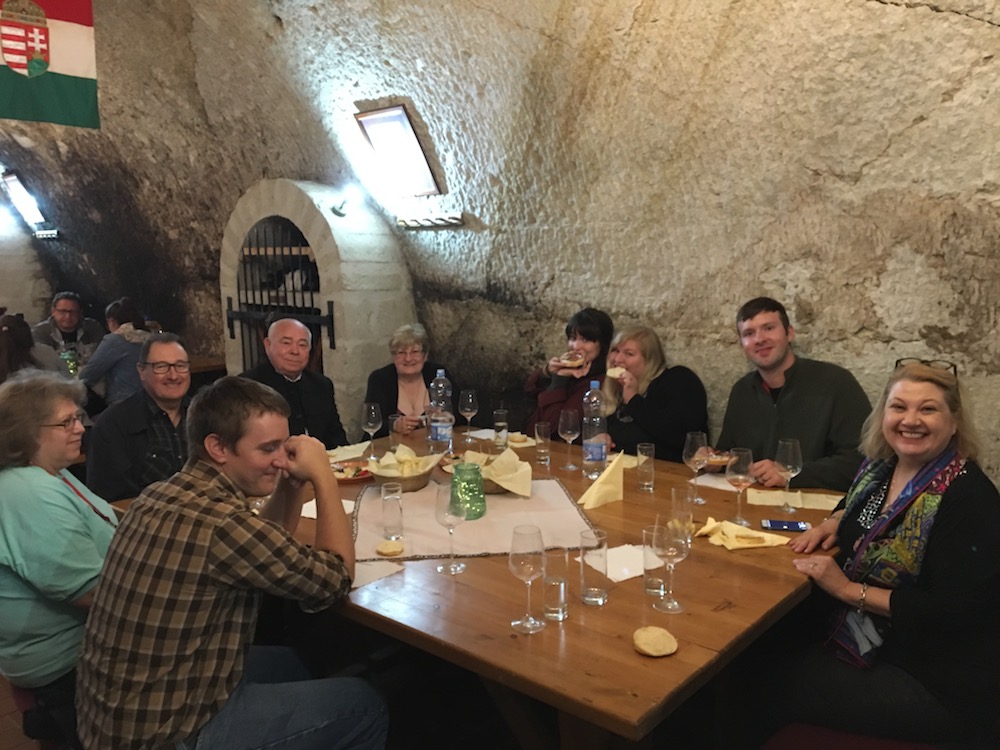 We just returned from our Fall Wine and Culinary Tour of Hungary! We had a great time exploring Hungary and participating in so many great wine tastings! The harvest was underway and yet we had several winemakers take the time to introduce us to their land and their passion. We also enjoyed visits to folk artisans and craftsman, soaked in the spa, checked out a castle, and sampled a little pálinka. We did everything we intended and even had some nice surprises along the way! Our age range was from 20-75+ and we had a blast together! On our final day, we participated in a cooking class and made an outstanding meal! Even though we enjoyed a lot of delicious food during our time together we loved the opportunity to be creative and learn how to make a few classic Hungarian dishes. If you would love to visit Hungary, we have three unique trips coming up in 2018 and it would be great to have you along! Come. See for yourself! Check out this link for our lovely options in 2018! Space is limited!
*** *** *** *** *** *** *** *** *** *** *** *** *** *** *** *** *** ***
One of my favorite things about the internet is that it makes it easy to find like-minded people when it comes to sharing my love for all things Hungarian! Even if you live in an area where there are few Hungarians you can be connected to a Hungarian "club" on Facebook! Clarisse and I have been connected via Facebook for a number of years but only recently met face-to-face in Michigan at a Pig Roast hosted by Hungarian American Cultural Center. [If you aren't familiar with this organization and you live in the area, you are missing out!]  You may know Clarisse as the administrator the Facebook group Hungarian Pride. She is a true partner in the quest to encourage those who are discovering their Hungarian heritage and she is a delight! Searching for a greater connection to your heritage? You will find there are many loving and knowledgeable people who are happy to help you on your journey. Of course, you will find others that are difficult to work with but that is not unique to Hungarians. If you are active on social media, please have fun but be kind because a little kindness goes a long way!
*** *** *** *** *** *** *** *** *** *** *** *** *** *** *** *** *** ***
The catalogs are in the mail! Have you received yours yet? If you received multiple copies to your address, would you consider passing along any extras to a friend or family member?
If you are new to Magyar Marketing and not on our mailing list and would like a catalog, please send an email to liz@magyarmarketing.com and I will get you on the list for the next mailing. Once we gather 200 names we can ship out another batch!
If you are a part of a Hungarian club can we send you a stack of catalogs? If so, please email me at liz@magyarmarketing.com with the name of the club and your name and address.
*** *** *** *** *** *** *** *** *** *** *** *** *** *** *** *** *** ***
Will you be in Sarasota FL this weekend for the Hungarian Festival? Magyar Marketing will! Stop in at our booth and say hi! We always love to make a connection face-to-face! We will be there both days and we have packed along most of what we offer! Come and see what we have, shop for some great Hungarian gifts, and save money on shipping charges!
There are many Hungarian events taking place during October around the world in an effort to remember the Hungarian Revolution of 1956. Many fled Hungary during that time and resettled all around the world. My parents were both born in the United States before 1934 and because they learned Hungarian at home they were able to more easily assist Hungarian refugees in 1956. Did someone in your family leave Hungary during that time? We offer several books that focus on that time period. Click here to see our selection.
If you have information on an event that you would like me to promote, please send the digital poster to me at liz@magyarmarketing.com and I will promote it for you! Here are Upcoming Hungarian Events we know about!
*** *** *** *** *** *** *** *** *** *** *** *** *** *** *** *** *** ***
The 2018 Calendars are on their way! If you would like to order your calendar and you aren't ordering any other products, please contact me via email liz@magyarmarketing.com or call 1-800-786-7851 so I can ship it the cheapest way possible. Otherwise, you can order them through our website if you are getting a box of Hungarian goodies! Enjoy a new wonderful photograph taken in Hungary for each month! One of the best features of this calendar, besides the beautiful photography, is that it also lists Hungarian Name Days as well as months and days of the week in both Hungarian and English. It's an easy gift because one size fits all but it is a great for your own home as well! Size 12″ x 10″. Spiral bound. Heavy stock.
*** *** *** *** *** *** *** *** *** *** *** *** *** *** *** *** *** ***
COMING SOON: Szaloncukor, Konyakosmeggy, Walnut or Poppyseed Rolls, and fresh ground poppyseed! If you want to pre-order these items you may do so at our website and we will ship them as soon as they are in stock!
Looking for Pogácsa, and Walnut or Poppyseed Pozsonyi Kifli? Those will not be featured at our website but you can send an email to liz@magyarmarketing.com and preorder what you would like to make sure we have it for you! We will be able to ship baked items around October 30th!
*** *** *** *** *** *** *** *** *** *** *** *** *** *** *** *** *** ***
To see last month's newsletter, CLICK HERE!
Thank you for your support of our second generation family business!
Wishing you all the best! Minden jót!
Liz and Don Vos
Lauren and Josh, Landon and Grace, Elizabeth, and Hannah
Our mission is to provide you with resources and encouragement to discover, celebrate, and share your Hungarian heritage with friends and family!
1.800.786.7851
liz@magyarmarketing.com
To Shop: Magyar Marketing
To Read Our Articles: Magyar Living
Find additional content, photos, and more here:
Facebook: Magyar Marketing
Instagram: magyarmarketing
Twitter: @MagyarMarketing