Magyar Marketing Newsletter #132

August 2017
Welcome!  Isten Hozott!
Recently we attended the Gulyás Festival in Chicago and the Hungarian picnic in Ligonier, Pennsylvania hosted by the Bethlen Home. Both of these events provided a great opportunity for wonderful Hungarian food, lively folk dancing, a chance to hear the Hungarian language, and an opportunity to connect with others with Hungarian heritage. We had a lot of great conversations with folks who were interested in Hungary's border changes, easily seen on our exclusive map of pre-Trianon Hungary with the outline of Hungary's current borders. This is great for the person in your life who is into genealogy, ancestry, history, or anything Hungarian. Check it out here!
Are you looking for an opportunity to celebrate your Hungarian heritage? There are a number of events coming up – be sure to spread the word to family and friends in these areas: Lorain OH, Toledo OH, Virginia-Washington DC area, Fairfield CT, Hiram OH, Parma OH, Linden NJ, Niagara Falls, Ontario Canada, Wallingford CT, Woodbridge NJ, Chicago IL, Atlanta GA, and Sarasota FL. Take a look at our Hungarian Events Page as new opportunities are added all the time!
~     ~     ~     ~     ~     ~     ~     ~      ~     ~     ~     ~     ~     ~     ~     ~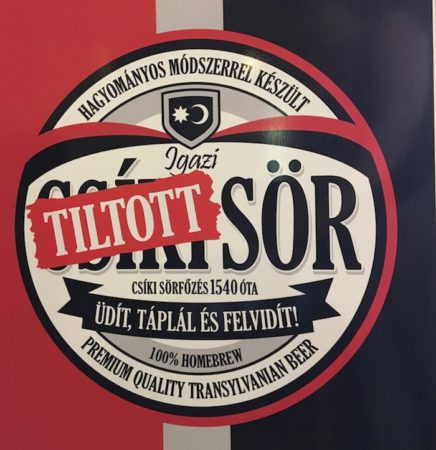 When we were preparing for our trip to Transylvania, someone had mentioned to me to be sure I tasted Csíki Sör. I wasn't familiar with Csíki Sör or the story and struggle behind the beer but I soon learned that Heineken was working hard to overrun the little guy. Check out this article that discusses the challenges and the good that has come from the struggle.
And please support your local Hungarian businesses, clubs, and churches in the U.S.A. and Canada! They work hard to keep Hungarian traditions alive and give back to the community in so many ways!
~     ~     ~     ~     ~     ~     ~     ~      ~     ~     ~     ~     ~     ~     ~     ~
September 27, 2017 is the date for the opening of the Hungarian museum in Árpádhon, Louisiana! You may remember that my husband, Don, and I had the opportunity to visit Árpádhon last fall and it was well underway! Preserving history is such a labor of love and we are privileged to have Hungarian museums in Cleveland OH and New Brunswick NJ and soon in Louisiana! Are there other Hungarian museums that you are aware of that I have overlooked? If so, please let me know via email at liz@magyarmarketing.com and check out this article about what is happening down south!
~     ~     ~     ~     ~     ~     ~     ~      ~     ~     ~     ~     ~     ~     ~     ~
Each of our upcoming trips have early bird discounts and one is coming up in August so don't delay! You can save $100 per person by sending your deposit for the Winter Traditions in Hungary trip by August 11th which takes place February 1-12th, 2018! Join us as we explore folk artisans in Mezőkövesd, enjoy wines from the Tokaj wine region, participate in the Búsó festival in Mohács, visit the cave bath in Miskolctapolca, enjoy a thermal spa, taste a variety of kocsonya at the festival in Miskolc, as well as many other adventures. I am looking forward to seeing Hungary during the winter season and learning first-hand about the things my family in Hungary experiences! Come! See for yourself!
Email liz@magyarmarketing.com for a registration form and the quick look of this trip. Mail the $500 deposit check to:
Magyar Marketing
PO Box 6101     Evansville IN 47719
Want to join our Wine and Culinary tour THIS SEPTEMBER? We would love to have you! We do have a few spots available but hurry so we can get you on the list! Delicious food and fantastic wines await you along with the beauty of Hungary in autumn!
September 28 – October 8, 2017 Wine and Culinary Tour featuring Eger, Tokaj, and Etyek
Our other trips in 2018 include:
June 17 – 29, 2018 Summertime in Hungary: Kecskemét, Szeged, Gyula, Budapest, Ópusztaszer, and a day in nearby Serbia.
September 23 – October 5, 2018 Wine and Culinary Tour featuring Szekszárd, Siklós, Harkány, and Budapest.
Contact Liz for more details!
 ~     ~     ~     ~     ~     ~     ~     ~      ~     ~     ~     ~     ~     ~     ~     ~
Check out last month's newsletter here!
Wishing you all the best!
 Minden jót!
Liz and Don Vos
Lauren and Josh, Landon and Grace, Elizabeth and Hannah
1.800.786.7851
liz@magyarmarketing.com
To Shop: Magyar Marketing
Tour Information: Magyar Living
Magyar Marketing is a second-generation family business that began in 1988. Our mission is to provide you with resources and encouragement to discover, celebrate, and share your Hungarian heritage with friends and family! To receive our free product catalog or learn about Magyar Living's tours to Hungary, please email liz@magyarmarketing.com or call 1-800-786-7851.