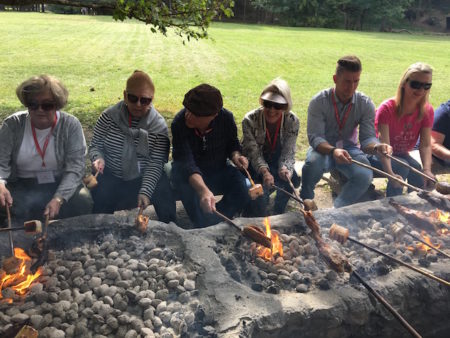 Adventure in Hungary: September 28 – October 8
Please arrange to be at the Budapest Airport on September 28th by 10:30 am.
This 10-day Wine and Culinary Tour will focus on the well-known Tokaj and Eger wine regions and offer finer dining and includes:
• A/C coach services & English speaking guide from arrival till departure
• All hotel accommodations (all are 4 star hotels)
• All airport transfers
• Two meals each full day
• Dinner in the Fehérszarvas Restaurant in Eger
• Taste the Cake of the Year
• Wine tasting in the Juhász Winery in the Szépasszony Valley
• Dinner with Wine Knights inauguration program in the Kulacs Csárda
• Visit to the Stühmer Chocolate Factory
• Organ Concert in the Basilica in Eger
• Trout picnic in Szilvásvárad
• Hand made cheese tasting in Mónosbél
• Mézeskalács making in Mezőkövesd
• Picnic in the vineyards in Mád
• Wine tastings and dinners in five award winning wineries
• Visit with tasting in the Wine Vinegar House in Bodrogkeresztúr
• Visit to a barrel manufacturer
• Visit to the Synagogue and the Aszú House in Mád
• Visit of the Castle in Sárospatak
• Boat trip on the Bodrog
• Pálinka tasting in the Pálinka House in Veresegyház
• Lunch in the Szűcs Fogadója Restaurant
• Cooking course and wine tasting with snacks (ham, cheese etc.) in Etyek
• City tour in Budapest
• And several other surprises
Land Tour price: $2600 per person, based on double occupancy
Single Supplement: $350
Initial Deposit: $500 with additional payments due March 15th and May 1st, 2017
Not included: flight arrangements, passport fees, etc.
Interesting in joining us? Please call 1-800-786-7851 or email liz@magyarmarketing for a day-by-day itinerary and registration form.